Last Updated on December 12, 2022 by Jamie
A diet excluding meat, dairy, and eggs and incorporating whole plant foods such as grains, legumes, fruits, and vegetables is often called a plant-based diet.
Plant-based foods are low in fats and calories while containing high quantities of fiber, vitamins, and minerals. Simultaneously, you can also get all the necessary proteins, calcium, and other nutrients by consuming a variety of these meals.
The benefits of such a diet are endless. A plant-based diet can reduce the risk of obesity, type 2 diabetes, heart disease, and other illnesses. And not to mention the fact that it is far more pocket-friendly than the alternate option.
The Benefits of a Plant-Based Diet:
Reduced Risk of Type 2 Diabetes:
Eating a diet incorporating fruits, vegetables, legumes, nuts, and whole grains can be linked to a lower risk of type 2 diabetes.
This experiment conducted by JAMA Internal Medicine concluded that natural, plant-based dietary choices could reduce the chances of diabetes.
Type 2 diabetes is caused when the beta cell function of the pancreas decreases. This can result in a drop in blood sugar levels and cause hypoglycemia.
A randomized trial discovered that after just 16 weeks of following a plant-based diet, individuals had enhanced beta cell function and insulin sensitivity compared to the control group, along with reduced belly fat and lower body mass indices (BMIs). This further concluded that aside from treating type-2 diabetes, a plant-based diet can aid in weight management and cause weight loss.
Lower Blood Pressure:
According to the Physicians Committee for Ethical Medicine, high blood pressure, often known as hypertension, can raise the chance of developing health problems like heart disease, stroke, and type 2 diabetes. Fortunately, you can control your blood pressure with how you live and what you eat. According to numerous research studies, eating plant-based foods can help lower blood pressure, ultimately reducing the risk of developing other illnesses and promoting health and well-being.
According to this meta-analysis that looked at data from 39 studies, vegetarians had lower blood pressure on average than person who ate both vegetables and meat. Additionally, a different study released on the National Library of Medicine indicated that vegans had a 34 percent lower chance of developing hypertension than meat-eaters.
Healthy Heart:
Saturated fats, a significant constituent in meat and other dairy products, can cause heart problems if consumed in excess. Therefore, you can help protect your heart by consuming less meat-based foods and trying a more natural, plant-based approach.
As shown by this study, a plant-based diet can lower the chance of acquiring cardiovascular disease by 16% and of dying from it by roughly 31%. However, it is not just about cutting back on meat; you also need to make sure that the plant-based meals you include are nutritious. According to a 2017 study in the Journal of the American College of Cardiology, harmful plant foods, such as refined grains and sugary drinks, can also raise your risk of heart disease.
Therefore, you must choose the right plant-based foods such as whole grains, beans, fruits, vegetables, and healthy oils to ensure optimum benefit.
Weight Loss:
When you go from a diet high in meat to one high in plant-based products, the risk of obesity decreases. In conclusion, even though losing weight is not always the primary goal, plant eaters are typically more fit and weigh less.
According to this research by National Heart, Lung, and Blood Institute, vegans' mean BMI was 23.6, whereas that of non-vegetarians was 28.8, which is considered overweight.
You can lose weight by increasing your plant-based intake. Since whole grains and vegetables are generally low on the glycemic index, it means that they are digested more slowly. While the fruits contain fiber and antioxidants that can help prolong fullness.
In short, if you're planning on losing weight, eating a healthy plant-based diet should be your top priority.
Helps Live Longer:
Another benefit of incorporating a plant-based diet is increased lifespan. According to this research published in the Journal of the American Heart Association, a plant-based diet reduces the risk of death by 25%. In addition, it can support your immune system and increase the body's defense by 5%.
Decreased the Risk of Cancer:
As you have seen, a plant-based diet is good for maintaining heart health and boosting immunity, but can it help with cancer? The answer is a resounding yes.
According to the American Institute for Cancer Research, eating a diet rich in veggies, fruit, grains, legumes, nuts, seeds, and some animal foods is an excellent method to obtain phytochemicals, a substance which has the potential to fight cancer.
Improves Cholesterol:
Fatty deposits in the vessels caused by high cholesterol can reduce blood flow and result in heart attack, stroke, and other heart diseases. However, a balanced diet can help lower cholesterol levels and prevent cardiovascular diseases.
According to this review, people who switch from a diet high in animal products to one mostly plant-based can reduce their LDL ("bad") cholesterol by 10 to 15%. In contrast, those who adhere to a strict vegan diet can reduce it by as much as 25%.
Decreases the Risk of Strokes:
Several factors, including high blood pressure, obesity, diabetes, smoking, drinking, or abusing medications, can increase the risk of heart attack or stroke. However, as stated above, adopting a plant-based diet and leading a healthy lifestyle can eliminate most of these risk factors and avoid stroke by up to 50%.
A study further states that people who consumed more fruits and vegetables had a 32% lower risk of stroke than those who consumed them less.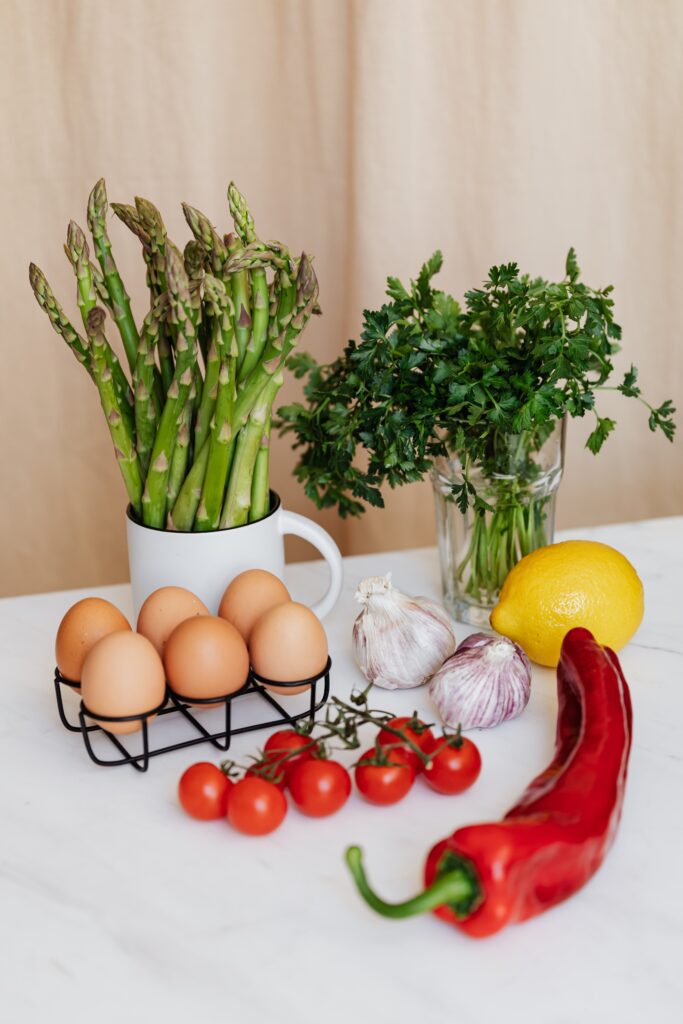 Foods to Include in a Plant-Based Diet:
From steaks for dinner and bacon for breakfast, animal products are the main ingredient in most people's diets. Even though the taste of these foods is unmatched, animal-based food can prove to be harmful in the long run, so you should focus more on plant-based meals. If animal foods are consumed, they should be done in moderation and after considering the product's quality.
Foods like meat, chicken, dairy, eggs, and seafood should be used more as a complement than as the main course.
The following are the different varieties of foods and their examples that you can include in your plant-based diet.
Fruits: berries, citrus, pears, peaches, pineapple, bananas, and others.
Vegetables: broccoli, cauliflower, carrots, asparagus, tomatoes, kale, spinach, and other vegetables.
Starch Vegetables: Butternut squash, potatoes and sweet potatoes.
Whole grains: Barley, brown rice, brown rice pasta, rolled oats, quinoa, and farro.
Legumes: Peas, chickpeas, lentils, peanuts, and black beans.
Seeds and Nuts: Almonds, tahini, cashews, pumpkin seeds, sunflower seeds, and natural peanut butter.
Plant-based milk: Coconut milk, almond milk, and cashew milk.
Herbs: Basil, rosemary, turmeric, curry, and black pepper.
Condiments: Salsa, nutritional yeast, mustard, soy sauce, and vinegar.
Plant-based Proteins: Tofu, tempeh, and other plant-based protein sources or powders without added sugar or artificial chemicals
Drinks: sparkling water, coffee, tea, etc.
Seafood: When possible, wild-caught from sustainable fisheries.
Dairy: Whenever possible, choose organic dairy products made from pasture-raised animals.
Foods to Avoid in a Plant-Based Diet
Now that we have covered what foods you should include in your plant-based diet, let's move on to some options you should avoid. However, if you are not ready to remove them altogether, you can start by limiting their intake and taking one step at a time. All of it depends entirely on the diet plan your nutritionist recommends or the one you create for yourself.
Some foods to avoid when following a plant-based diet are pretty evident, but others can surprise you. Aside from animal-based products, some plant-based foods can also cause harm and should be avoided at all costs.
Animal-based foods to avoid
Meat: Veal, pork, lamb, beef, and lamb.
Poultry: Chicken, turkey, duck, goose, quail, and others.
All varieties of fish, anchovies, prawns, squid, calamari, scallops, mussels, crab, lobster, or even fish sauce.
Dairy products: Milk, yogurt, butter, cheese, cream, and ice cream.
Eggs: Chicken eggs, ostrich eggs, quail eggs, and fish eggs.
Honey, royal jelly, and other bee products
Fast food: Fried potatoes, cheeseburgers, hot dogs, hamburgers, fried chicken, and chicken nuggets.
Processed sugars: Table sugar, soft drink, juice, baked goods, cookies, candies, coffee or tea, sugary cereals, and other processed sugars and sweets.
Refined grains: White pasta, bread, bagels, and other refined grains
Packaged and convenient foods: Frozen dinners, cereal bars, chips, and crackers.
Processed vegan-friendly foods: vegan kinds of butter, unnatural cheeses, and plant-based meats like Tofurkey.
Artificial sweeteners
Processed animal products: beef jerky, ham, premade sandwiches, and sausage.
Meal ideas
Planning meals can be tricky when you are in the initial stage of your plant-based diet. Even if you know about which ingredients to avoid, putting a dish together without using those ingredients can prove to be a hassle.
But don't worry! We have prepared some sample meal plans to help you out in your early "healthy dieting" days.
But first, let's explore some recipes you can try:
Smokie spicy veggie rice: this vegan version of jambalaya is loaded with veggies and fiery, smoky flavors. Low in calories and high in flavor, it can be a great addition to your dietary regime.
Sesame parsnip & wild rice tabbouleh: You can fill up delicious vegetables with a simple vegan parsnip & wild rice tabbouleh. This simplistic winter salad is flavorful and filling.
Vegan chili: A healthy vegan chili is flavorful and contains a lot of vegetables. For a filling supper, serve it with rice or baked potatoes.
Acai bowl: To get your day started with a fun dish, try this fruity breakfast. You can change the toppings depending on the season; fresh peaches or berries work well in summer, while strawberries are ideal for winters.
Roasted Cauliflower steak: With red pepper, olive, salsa, and almond topping, you can bring out the flavors of cauliflower. It makes a delicious light lunch or dinner that is healthy and vegan.
Fennel, roast lemon & tomato salad: This vibrant summer salad combines roasted lemon with fennel fronds, pomegranate, cherry tomatoes, and herbs.
Chocolate chia pudding: Prepare a tasty, healthy chocolate pudding in just five minutes. Purely vegan and low in calories, chia seeds are a fantastic source of omega-3 fatty acids.
Vegan tacos: Make these delicious vegan tacos with smoky-sweet salsa to get all five of your recommended daily servings in one sitting.
Peanut butter oats: Make a decadent yet healthy bowl of overnight oats with creamy peanut butter and tart raspberries.
Celeriac, hazelnut & truffle soup: On Christmas Day, serve this nutritious vegan celeriac and hazelnut soup as a starter. You can add truffle oil to add a touch of luxury or omit it for a simple snack.
Squash & spinach fusilli with pecans: This vibrant low-fat, low-calorie squash and spinach pasta with pecans is suitable for those who are not vegans. It's tasty and nutritious.
Guacamole & mango salad with black beans: This nutritious salad of mango, avocado, and beans provides four of your daily recommended five servings. It is a nutritional powerhouse that is also gluten-free and vegan.
Black beans and avocado on toast: A colorful Mexican-inspired breakfast featuring black beans and fresh avocado gives you a healthy start.
Now let's review some weekly sample meal plans:
Sample plan 1:
Monday:
Breakfast: sliced peaches, unsweetened coconut, and pumpkin seeds on top of full-fat plain yogurt.
Lunch: A sizable salad with fresh fruit, veggies, avocado, pumpkin seeds, and goat cheese.
Dinner: tacos with sweet potatoes and black beans.
Tuesday:
Breakfast: Coconut milk-based oatmeal with berries, shredded coconut, and walnuts.
Lunch: a veggie wraps and delicious hummus.
Dinner: Butternut squash curry with brown bread.
Wednesday:
Breakfast: savory oatmeal with black beans, pico de gallo, and avocado.
Lunch: Chili without meat.
Dinner: Pesto-tossed zucchini noodles with chicken meatballs
Thursday:
Breakfast: Tofu and vegetable salad.
Lunch: Quinoa, vegetable, and feta salad.
Dinner: Grilled fish with toasted sweet potatoes and veggies.
Friday:
Breakfast: smoothie made with blueberries, kale, almond butter, and coconut protein.
Lunch: Vegetable salad topped with grilled shrimp.
Dinner: green salad and cheese-topped aubergine lasagna.
Saturday:
Breakfast: Fluffy vegetable omelet
Lunch: Brown rice sushi with vegetables, avocado, and a seaweed salad.
Dinner: Black bean veggie burgers with sliced avocado served on a salad.
Sunday:
Breakfast: French toast with a smoothie
Lunch: Roasted broccoli and tahini quinoa bowl.
Dinner: Roasted portobello fajitas.
Sample plan 2: (with nutrition description)
Day 1:
Breakfast: Peanut butter and sliced banana on whole grain toast. This meal provides protein, essential fats from peanut butter, carbohydrates, and fiber from banana and brown bread toast.
Lunch: Spinach salad with plant-based cheese and chickpeas beans: The cheese provides protein and fat, and the beans add more protein and a few high-fiber carbohydrates. Spinach increases the amount of fiber and offers a range of minerals and vitamins.
Dinner: Pair wholegrain pasta with plant-based meat mice for a high-fiber carbohydrate source and serve with mozzarella or a vegan cheese substitute.
Day 2:
Breakfast: Chia pudding as chia seeds are a great source of plant-based protein and good fats. You can make this with vegan milk substitutes (be sure to choose a no added sugar variety). In addition, any extra fruits will serve as a fiber source.
Lunch: Sandwich made with mashed chickpeas, zucchini, lettuce, and vegan yogurt adds protein, carbohydrates, and fiber. This quick meal idea is nicely completed by including some whole grain bread for increased fiber and coleslaw for the nutrients.
Dinner: Tofu and vegetable sticky rice is an excellent combination because tofu is a high-protein vegan food that tastes great in all dishes. For an instant weekday meal, you can add frozen vegetables, which are just as nutrient-dense as fresh ones. To add even more fiber, use brown rice.
Day 3:
Breakfast: Tofu is an excellent source of protein; by combining it with whole-wheat toast and mushrooms, which both provide carbohydrates and fiber, you can get a good amount of nutrients to begin the day.
Lunch: A quick lunch idea is a plant-based fish, avocado, and fresh tomato with oat crispbreads; combine fish and avocado to provide protein and beneficial fats from the avocado. For a high fiber carbohydrate source, pile these on oat fiber or rye crackers and top with tomatoes. If you'd like an additional source of fiber and nutrients, serve with a side salad.
Dinner: Black bean burger with sweet potato fries and salad – plant-based sandwiches are a good source of fiber and protein and freeze exceptionally well. For an increase in fiber and nutrients, serve this dish with some freshly made sweet potato fries.
Day 4:
Breakfast: Add a tbsp's worth of oats to this mango milkshake with oats, coconut milk, and a spoonful of coconut yogurt to make it more filling.
Lunch: Use multigrain bread as the base for your roasted vegetable salad, and then pile on the chickpeas, grilled vegetables, and flavourful hummus. Add a drizzle of healthy fats to some hummus.
Dinner: Chickpeas with a spicy baked potato – You can get the necessary amount of protein from the chickpeas and the required amount of carbohydrates from the potato by using a spicy tomato sauce as the foundation.
Day 5:
Breakfast: On whole grain toast with almond butter, peaches and strawberries, you get good fats from the almond butter, and the strawberries give you fiber and an antioxidant boost.
Lunch: Chickpea patties are made by combining grated carrots, breadcrumbs, nutritional yeast, and diced chickpeas. Fry in a pan and serve with a simple salad or a pita.
Dinner: Curry made with tofu, sweet potatoes, and spinach, in which the tofu serves as the primary source of protein. You should serve this curry with brown rice to fulfill your body's requirement for complex carbohydrates.
Conclusion:
We hope our blog post gave you a comprehensive insight into a plant-based diet and its numerous advantages. To help you get started, we have even suggested some sample plans!
So, what are you waiting for? Start today with this healthy venture and observe the positive effects it brings to your life. You can also look for plant-based supplements to help you compliment your new diet.
Happy eating, everyone!